Words & Music at The Skep
A day of music and poetry, with local food, ale and cider.
Saturday 11th June, 2022
Indie musicians including Elizabeth Morris (Allo' Darlin, Elva), Pete Astor and Red Red Eyes play quieter than normal sets – we want you to hear the words! Poets including David Herd and Jane Yeh alternate with the bands, reading their work in this informal, inclusive environment. Lots of outdoor space for picnics.
 20 tickets have been reserved for near-neighbours (these are available locally).
Local food and drinks will be available – cash only.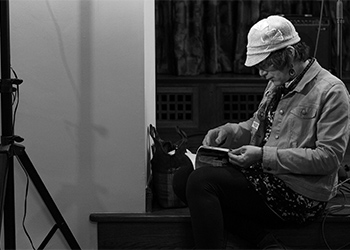 Details
Tickets £22.00
Under 16 £11.00
Door time: 1:00pm, Start time: 2:00pm
Please park on site – the local streets are narrow. We will organise transport from Headcorn station if you are coming by train.
The site is old, but we will do our best to make it accessible for anyone with particular needs. Any enquiries: please email meet@theskep.uk
The Skep
Frensham Manor
Winser Rd
Rolvenden Layne
Kent
TN17 4NL
First performed and recorded just before lockdown, 'Wealden' is a collaboration between Nancy and the three members of The Drift.  Nancy's poem is inspired by a walk across the Marsh, from the Weald to Dungeness, and concerns itself with the ecology, human history and longer-term environmental history of this unique landscape.  The Drift's music offers gentle but powerful accompaniment, combining harmonium, bass, vocals, and glockenspiel with a constantly evolving series of sound loops, which are generated from the grasses, stones and rushes that can be found on the Marsh.   
'Wealden' is published as a book and a CD by Longbarrow Press.